Mega-metro areas and high-tech hot-spots – like New York, Chicago and Columbus – may be the hubs of the ever-growing trend of shared office spaces, known as coworking. But towns like Bellefontaine are perfectly poised to bring that innovative concept to small-town Ohio.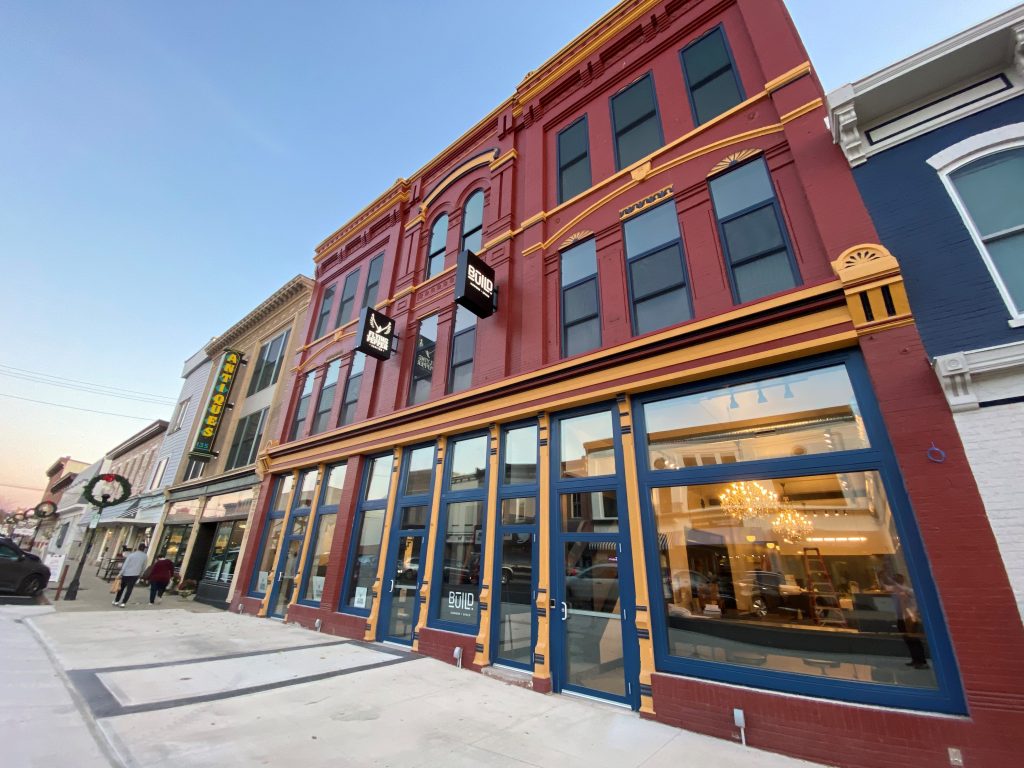 The new BUILD Cowork + Space in the heart of downtown Bellefontaine takes a historic building and transforms it into a collaborative space designed to connect, inspire, support and enable small businesses, startups and entrepreneurs. The brainchild of Small Nation, BUILD Cowork + Space is slated to open this summer.
"The way people work is evolving … and it's going to keep changing. We're seeing fewer endless seas of corporate cubicles and more flexible, comfortable and shared spaces for individual workers," says Jason Duff, founder of Small Nation. "We want Bellefontaine to be at the forefront of the movement revolutionizing the spaces people will use for working in small towns."
Indeed, the rise of coworking spaces is unprecedented. According to a report inCoworking Resources, in 2015 there were about 7,800 coworking spaces worldwide, a figure projected to jump to nearly 26,000 spaces in 2022. From 2019 to 2022, the number of shared spaces is on target to rise by 42 percent.
American cities sporting the most coworking spaces tend to be urban and tech-oriented enclaves; New York City, San Francisco, Atlanta, Austin and Denver lead the list. That's where Bellefontaine may be different … but the town is ready to roll.
"Granted, in Ohio coworking is strong in urban centers, like Columbus and Cincinnati. But Bellefontaine is unique," says Ben Vollrath, Logan County Chamber of Commerce president. "We have an incredibly entrepreneurial momentum going on – people are starting new businesses, growing new businesses. We have a community here with lots of energy. I believe Bellefontaine is a frontrunner for this kind of initiative for small towns."
The concept is simple, Duff says. It's an arrangement where independent workers – often sole business owners, independent professionals and individual consultants – share office and work space along with equipment and resources, resulting in cost savings and community-building.
In Bellefontaine, the Small Nation team took a historic downtown building – which most recently was a Chinese restaurant but has been vacant and in disrepair for years – and is transforming it into an innovative and progressive space that embraces its iconic roots.
With three floors, an open staircase and an abundance of natural light, BUILD Cowork + Space will offer 14 private office spaces with 24/7 access for rent or for day-use, conference and executive board rooms, community reception and lounge areas, shared resources and full connection to high-speed broadband and advanced technological amenities.
Click here to take a virtual tour of BUILD Cowork + Space
But it's not just strictly business. "We're not only creating a space to work and a professional space to see clients, but we're promoting quality of life, too," Duff says. "BUILD is within walking distance to trendy coffee shops, a 24-hour gym, yoga studios and restaurants. The building boasts a large outdoor living space and patio, and a new restaurant – Flying Pepper Cantina – is opening on the ground floor."
Those amenities place business owners and entrepreneurs smack-dab in the middle of the energy and synergy of downtown Bellefontaine. "They'll not only share space, but they'll be able to share energy and ideas with each other and with other like-minded professionals downtown," Duff says. Plus, BUILD Cowork + Space users will be able to take advantage of special events, small-business training and leadership experiences regularly offered by Small Nation.
"BUILD will be the springboard to help attract new entrepreneurs to town, where they can be part of our great ecosystem," Vollrath says. "We have the atmosphere, support, understanding and amenities to do that.
"It's exciting and unique for a community of our size to plow ahead with ventures like this," he adds. "Small towns across the country are hungry for growth, and I'm grateful for Small Nation to push this initiative forward and make it a reality."
To be the first to know about the latest updates with BUILD, sign up here: https://buildcowork.com/